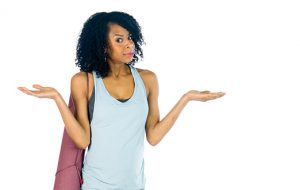 Ahhh, it's Saturday morning!
The one morning a week you have time to yourself. You can catch up on the news and actually enjoy the coconut-toasted coffee you bought on a whim two days ago. It looked delicious on the shelf at Whole Foods and now your taste buds confirm it was worth the extra bucks.  
As 10:00 am rolls around, you squeeze into your yoga pants, roll up your yoga mat, and take some of that coconut coffee to go. You look forward to yoga class each week. It leaves you feeling revitalized, refreshed, and seems to (briefly) alleviate your chronic neck pain. Brunch afterward with your fellow yogis isn't so bad either.
There are many reasons people incorporate yoga into their lives. The physical and mental benefits of a regular yoga practice are undeniable, proven, and effective. However, if you're using yoga for pain relief and the pain continues to persist, a deeper medical condition might need to be addressed. And while recreational yoga can be used to manage minor pains and aches, it cannot offer true rehabilitation.
But, yoga class seems to help, why yoga therapy, why YogaMedics therapy? What's the difference and which option is best for you?
Yoga Class is Body Maintenance, Yoga Therapy is Holistic Body Rehabilitation, and YogaMedics Therapy is Clinical Body Rehabilitation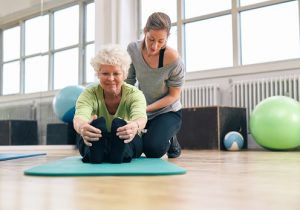 While all three use movement as a means to heal and rejuvenate, yoga therapy is for individuals who have long-term health issues, who need to strengthen specific parts of their body, who need to need to regain use of their body or body parts, or who need to heal from injury.
However, YogaMedics therapy is clinically-based and is similar to physical therapy in its function and application. While two people may be suffering from the same ailment, their treatment might be approached differently. YogaMedics therapy is not yoga but uses a yoga foundation in a results-based, data-driven model to rehabilitate patients.
Yoga Class is Generalized, Yoga Therapy is Personalized, and YogaMedics Therapy is Customizable and Measurable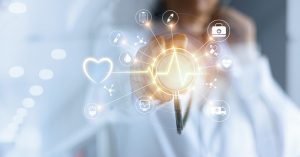 In yoga class, all participants do the same movements, the same poses, and meditate at the same time.
Yoga therapy adapts yoga to the individual and uses it in a way that addresses ongoing health problems.
YogaMedics therapy is data-driven and utilizes a specialized software to track a patient's progress. This means that healthcare providers can adjust and customize their treatment on an as-needed basis. Progress resulting from yoga class or yoga therapy, while effective, is subjective and unmeasurable. 
Yoga Class is Emotional Release, Yoga Therapy is Emotional Healing, YogaMedics Therapy is Mental/Emotional Rehabilitation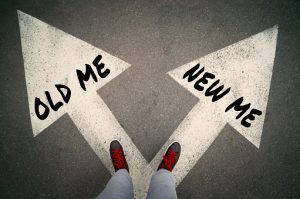 The mind and the body are interconnected. For example, someone suffering from anxiety may actually have more physical symptoms than behavioral symptoms. One of the major goals of yoga and yoga therapy is not only to reveal internal struggles but to treat it. This treatment correlates with psychoneuroimmunology, a branch of psychology that studies the interaction between the nervous, endocrine and immune systems. Yoga therapy offers relief on the physical level, while illuminating the psychology behind the pain.
YogaMedics therapy medically addresses the emotional and mental aspects of physical rehabilitation. The main difference between YogaMedics therapy and yoga therapy in terms of emotional/mental rehabilitation is that YogaMedics therapy provides an objective way to measure emotional/mental progress and utilizes yoga poses in a strategic and scientific way to tackle emotional/mental causes of physical pain.
Yoga Instructors, Yoga Therapists, and YogaMedics are Trained Differently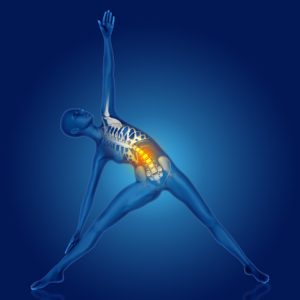 Becoming a recreational yoga instructor involves a vast amount of physical knowledge, yoga know-how, and a minimum of 500 hours of experience.
Yoga therapists are trained holistically, with slight medical knowledge. Yoga therapists often have a deep understanding of Ayurveda, the traditional Hindu system of medicine based on the idea of balance in bodily systems utilizing diet, herbal treatment, and yogic breathing.
YogaMedics are trained in a clinical environment. Though they are not certified to diagnose conditions or give medical advice, they must have extensive knowledge of anatomy, physiology in both health and various disease states, and must understand basic medical care for various health problems. They are trained to use certain yoga poses to address specific symptoms as well as how to analyze the data and adjust treatment.
In short, YogaMedics therapy is not a holistic treatment when compared to yoga class and yoga therapy. While yoga class and yoga therapy do have proven benefits, YogaMedics therapy actually allows medical experts to accumulate data for objective results. So, do you think you might need to consult a YogaMedic?
If so, we'd love to hear from you!