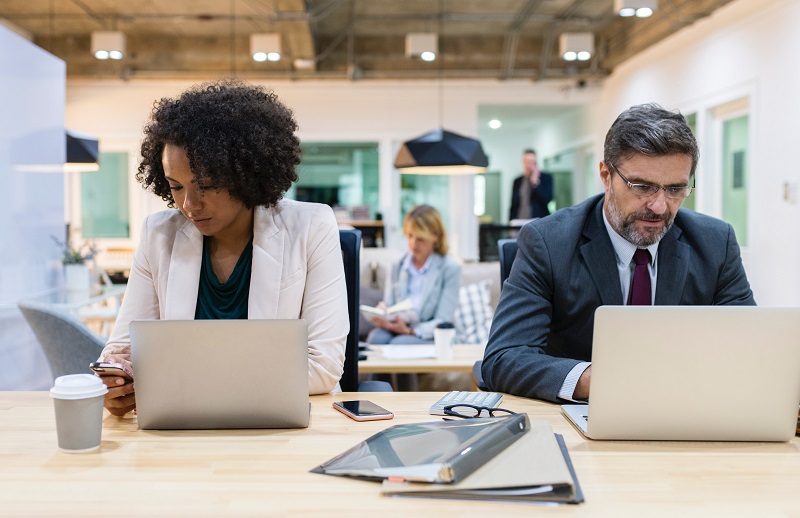 Workplace Wellness Programs Don't Address Millennials' and Boomers' Most Common Issues: Here's How a Medically Based Yoga Program Fixes That
Yoga has a plethora of scientifically proven benefits, including reduced stress, anxiety, and pain and improved fitness, flexibility, and quality of life. But yoga can be a loaded word and doesn't appeal to everyone; while millennials embrace the concept, boomers shy away from it. In a diverse office where all employees stand to reap the benefits of yoga, a versatile and individualized approach is needed. Medically based yoga could be the component your wellness program is missing.
Nearly 53 percent of small firms and 82 percent of large firms offer a wellness program. And, according to many studies, these programs work: in 2001, the University of Michigan's former Health Management Research Center found that for every $1 spent on wellness programs, employers saw a $3 return on direct costs, like workers' compensation claims, and indirect costs, like improved loyalty and increased productivity.
However, according to other studies, many employees feel their health isn't improving, despite the return on investment. Why is this?
Workplace wellness tends to be self driven, with little to no accountability. So, like many New Years' resolutions, employees quickly fall off the wagon, leaving only those who already lead healthy lifestyles and have low medical expenditures.
Furthermore, most corporate wellness programs focus on one of three areas: smoking cessation, weight management, and behavioral or lifestyle changes. But they fail to accommodate the two most common issues affecting millennials and boomers – the bulk of today's workforce.  Studies show that millennials suffer more from depression than any other generation while boomers' aging bodies require more pain management due to prolonged sitting and repetitive motions on the job.
Medically based yoga addresses both physical and psychological pain by fusing the holistic benefits of yoga with medically oriented techniques. It was designed by doctors, physical therapists, and yoga experts, and is versatile enough to increase employee participation and success.
What is Medically Based Yoga?
It is important to note that medically based yoga isn't recreational yoga or yoga therapy. All protocols are evidence-based and consistent with current clinical treatment models. Results are recorded through health enhancing technology, a software designed specifically for medically based yoga. A certified instructor will work with you to identify your employees unique needs and develop a customized, results-driven treatment plan. And, your employees will be working with an instructor, they will be held accountable and keep motivated.
Improving Physical Pain
For boomers at the office, this is a safe, effective program for managing pain. Lower back and back injuries are among the most widely reported health issues in the modern workplace: they are the second most common neuromuscular problem and account for 30% of all injuries that require time away from work. Medically based yoga is customized to rehabilitate and prevent a variety of physical ailments. And, without the stigma of traditional yoga, Boomers will be more receptive to the program, especially if you emphasize pain management.
Managing Psychological Wellness
The mind and the body are intimately connected but most workplace wellness programs don't address mental health. As millennials face unprecedented levels of depression, mental health management has become increasingly important to them. They view companies that value and promote mental wellness as an attractive place to work.
In addition to depression, workplace stress has been dubbed a "silent killer." Stress racks up more than $190 billion in healthcare costs per year –  so it is curious why more employers don't include mental health in their wellness programs.
Medically based yoga combines clinical therapy with the emotional benefits of yoga. It integrates positive physiological attributes, like increased oxygen, balance, and muscle strength with psychological functions like pain control, personal empowerment, coping mechanisms, and stress relief. Managing your employees' depression and stress is key to increasing productivity and lowering absenteeism.
Implementing a Medically Based Yoga Program
Because certified instructors perform most of the work and program planning, starting it is simple. No extra equipment or space is needed. However, if your office doesn't have an available room, sessions can be conducted at an offsite studio before, after, or during work hours. Medically based yoga is directly billable through workers' compensation insurance or as preventative care option.
Overall, current corporate wellness programs could be more effective. While they address many positive things, mental health and physical pain, two of the most common issues affecting millennials and boomers, are often ignored.  Employers stand to gain more from their investment – and so do employees. Medically based yoga is win-win that tackles the real roots of employee absenteeism, low productivity, and excessive healthcare expenses. To learn more, contact Yoga Medics.